Introduction
Microsurgery is a powerful tool in the reconstructive field, allowing free transfer of vascularized tissues to restore form and function. Strategies to train the next generation of microsurgeons have been studied in detail in literature [1,2]. However, to become competent, plastic surgery residents require exposure to microsurgical procedures, either simulated or in clinical settings. Microsurgery courses play a major role in the first steps of the learning curve for trainees to acquire skills. These skills can then be applied in the operating room under supervision. Previous studies have shown that the free flap success rate is directly correlated with surgical training and experience [3,4].
Over the last half century, health services in Latin America have sustained continuous expansion, improving access for patients requiring treatment for trauma and cancer. While demand for complex reconstruction is increasing in Latin America, the number of trained microsurgeons remains limited [5]. Despite reports that the area has a sufficient number of certified plastic surgeons, there are not many trained microsurgeons, and microsurgery procedures cannot be performed in all regions. A literature search shows that no previous study has looked into the training opportunities for microsurgery in Latin America. This study analyzes the present status and aims to find strategies to improve microsurgery training in the region.
Methods
A GDPR (General Data Protection Regulation) compliant, cross-sectional survey was designed to obtain information regarding the exposure and training that plastic surgery residents experience during residency in Latin American countries. This survey consisted of 15 questions including demographic information (Table 1). Senior residents and plastic surgeons who had completed their training within two years of the survey were approached to participate. The survey was voluntary and anonymous, and was distributed using the online survey platform, Jisc, United Kingdom. The respondents were from five countries: Argentina, Brazil, Chile, Mexico, and Uruguay. No compensation was offered to participants.
Data was extracted from the platform and collated in a Microsoft Excel spreadsheet. Descriptive and inferential statistics was performed using SPSS software 26.0. Fisher's exact test was used to compare percentages obtained and results were significant at a P-value less than 0.05.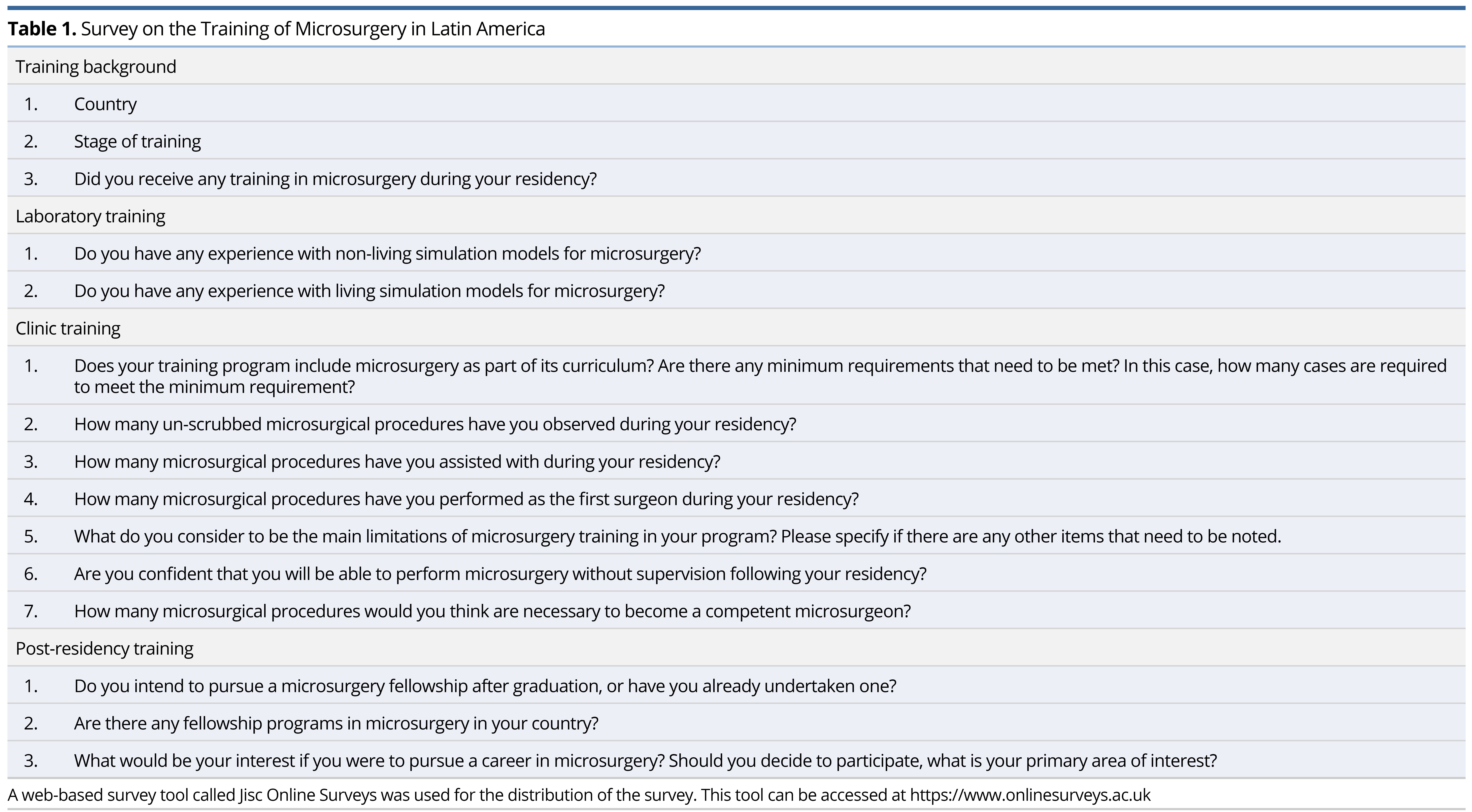 Results
Surveys were distributed to eligible participants in five training centers in Argentina, five centers in Brazil, two in Chile, three in Mexico and two in Uruguay. A total of 93 survey responses were received, corresponding to a response rate of 72.1%. Forty-four percent of the survey responses were answered by residents and 56% by recently graduated plastic surgeons (Table 2). We organized the survey in three major sections: laboratory training, clinic training and post-residency training (Table 1).

In terms of microsurgical training during residency, 79.6% of the respondents said that they had been involved in performing part of a microsurgical procedure either in a clinical or simulated setting. However, for 59.1% of respondents, this was part of their formal training program. Of all participants, 51.6% had experience in microsurgical training with simulated non-living models and 49.5% with living models. In terms of clinical experience, 46.2% of the respondents had collaborated with a primary surgeon in at least one microsurgical procedure as a trainee. However, only 12.9% of them had performed more than 10 procedures.
From the questionnaires, it was evident that 96.8% of the respondents had observed at least one microsurgery procedure, while 90.3% had assisted in at least one operation. Of the surveyed trainees, 25.8% had scrubbed in more than 20 procedures (Figure 1).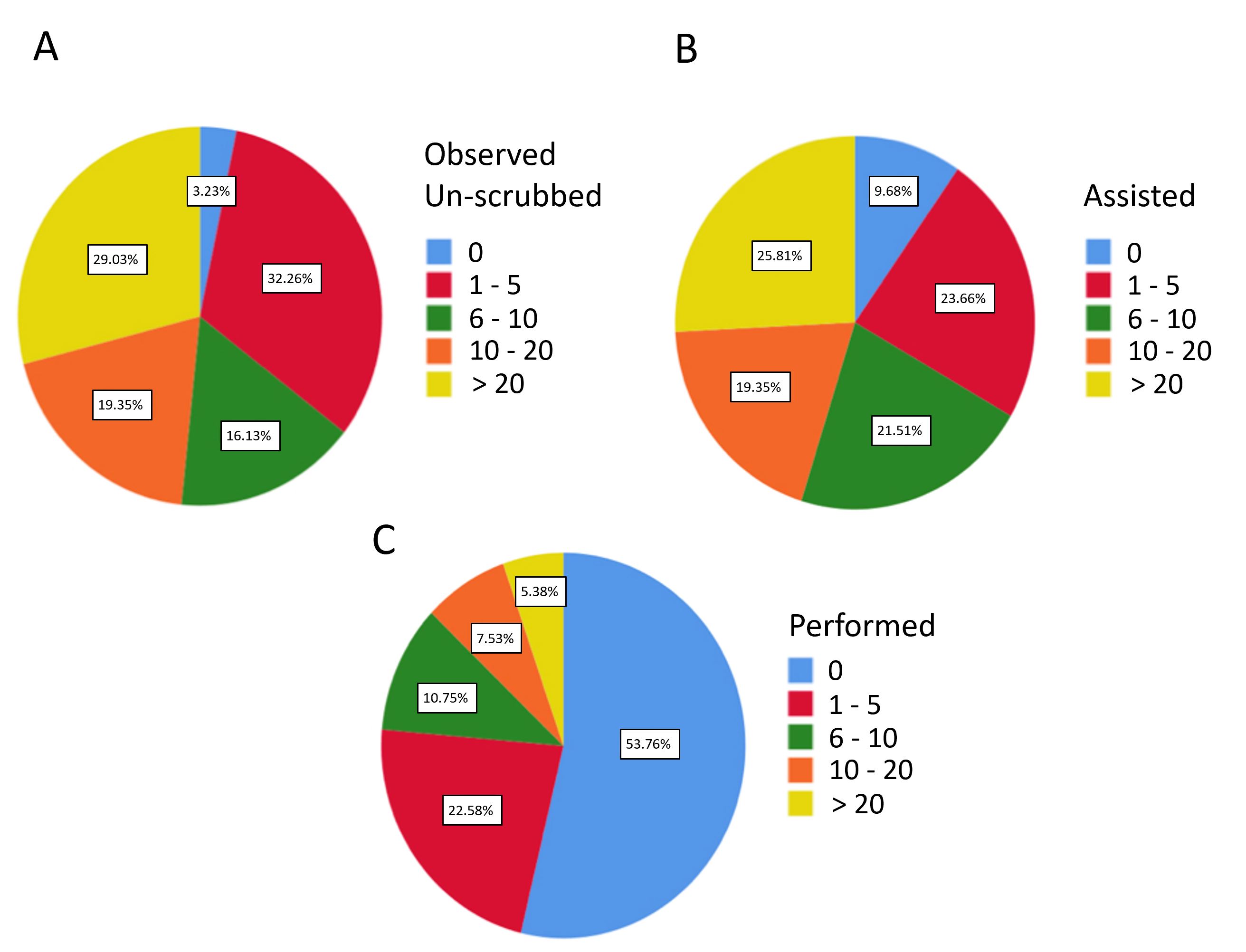 The majority of respondents (74%) reported that they would not be confident in performing a microsurgical procedure unsupervised. Trainees who had some degree of training were more confident about this technique than the group that did not (P = 0.01).
When asked about the main limitations in microsurgical training, residents responded that there were not enough cases (22%), lack of experienced trainers (19%) and that cases in their unit were usually resolved without microsurgery (16%). Some 47.4% of the respondents reported being trained in units where there were no requirements of minimal logbooks for microsurgery.
The survey also showed that 48.4% of the respondents would consider applying to a microsurgery fellowship, but only 63.4% had access to a fellowship program in their home country. Among the trainees who expressed an interest in pursuing a career in microsurgery, a multiple-response question revealed that the main areas of interest were breast reconstruction (65%), limb reconstruction (58%), head and neck reconstruction (27%) and lymphedema surgery (14%).
Discussion
Although there are many board-certified plastic surgeons in Latin America, microsurgery is not a commonly used procedure. We theorized that this was a result of lack of training opportunities during residency. This study sought to identify strategies to enhance microsurgery training by assessing its current status. Our study showed that only 46.2% of the surveyed Latin American plastic surgery residents had actually performed at least one microsurgical procedure as part of their residency. This figure is in stark contrast to the exposure gained by surgeons in other countries, most notably the USA, where microsurgery is an incorporated part of the curriculum. Mueller et al. evaluated different aspects of microsurgery training and found that 94% of the programs in the US had access to training microscopes for residents [6].
Our survey further showed that while 96.8% of respondents had observed at least one microsurgery throughout their training, just 25.8% had been involved in more than 20 procedures. While 90.3% of the respondents were able to scrub and assist, only 25.8% had done so in more than 20 operations.
An increased exposure of residents to microsurgeries would certainly be beneficial for such countries. Studies show that performing these complicated operations by residents under supervision has no significant impact on the percentage of complications that occur. They also demonstrate that basic lab microsurgery training can enable residents to work independently in the operating room with a low risk of complications [7,8].
Learning how to use a surgical microscope using non-living models is a useful method to practice and handle equipment, and to gain experience in micro suture procedures. It also gives students more confidence to practice on living models [9-11]. However, rat models are still essential for learning advanced techniques such as continuous stitching sutures, organ transplants, and working with vessels with a size discrepancy [12-17]. It is significant to mention that more than half of the respondents did not have access to simulated microsurgery during their residence, despite empirical evidence suggesting that surgeons with prior training perform better than those without [18,19]. For example, the United Kingdom stipulates that in order to qualify as a certified plastic surgeon, a trainee has to perform a minimum of 27 free tissue transfers as primary operator.
According to Maldonado and Song, microsurgery requires a high level of precision and development of exact skills. Hence it is essential that trainees should be gradually introduced to these procedures with the ultimate goal of gaining the ability of doing them independently and with repeatable results [20]. Numerous studies have shown that fellowships speed up the learning process, as they provide training in microsurgical reconstruction rather than focusing solely on the microsurgery technique [21].
A study by Ezra et al. showed that, regardless of their baseline ability level, all fellows improved over the course of the year, the overall skill gap closed dramatically, and almost all fellows were able to master microsurgery to a high level. Furthermore, fellows with lower initial assessments improved their technical abilities faster, whereas those with higher initial assessments improved their speed and efficiency the most [22]. According to studies, completing a fellowship not only enhances technical skills but also contributes to clinical decision-making, research, and dealing with experimental questions in microsurgery [23-25].
We believe that before performing microsurgical procedures on real patients, trainees should practice their abilities in the lab until they are proficient. Even though international opportunities and fellowships could benefit the field of microsurgery in Latin American countries, it is crucial to improve fundamental training to build a strong base. Without fundamental training, it is likely that residents would find it challenging to perform procedures in an international fellowship.
Further, fifty-four responders (58.1%) believed that one needs at least 25 flaps experience to become a skilled microsurgeon. This corresponds with Chan's recommendation of an exposure of 10 to 25 microsurgery cases per year to maintain technical skills, with 25 to 50 cases per year rated "optimal" exposure [26]. Scholz showed that early-career microsurgery training, especially for medical students, helps in not only improving technical skills but also increases the number of microsurgeons in the field [27].
The field of microsurgery is constantly improving and expanding, with increased demand not only in specialized institutions but also in general hospitals [28]. The study presented here reveals the status of microsurgical training opportunities in Latin America. Few residents were able to gain the level of experience required to act as independent microsurgeons. We have identified three main reasons for this based on the following findings. To begin with, there is a lack of lab training that is available to residents. There is also the issue that there are not enough instructors to allow students to practice in operating rooms. The third issue is that there are not enough fellowship positions available in the field of microsurgery.
This study has several limitations as it is limited in its coverage. It does not cover all the residency programs or all of the countries in Latin America. Therefore, it is not representative of the entire area, despite the high response rate and getting responses from countries with the largest departments in the region.
Conclusion
There is ample room for improvement in microsurgical training in the region. It will take time and effort to address this problem. Increased opportunities in the operating room must be combined with mandatory microsurgery training as part of residency programs. Additionally, in our opinion, having access to foreign microsurgical fellows can be a potent weapon for reversing the current regional shortage. Fellowships allow local plastic surgeons to gain high-volume experience in a limited period of time. An influx of returning trained microsurgeons would allow increasing the caseload while improving the training of future generations of microsurgeons.
References